Bacon blanketed, herb-roasted turkey
(Read article summary)
A Thanksgiving turkey beautifully presented with a woven bacon 'blanket.'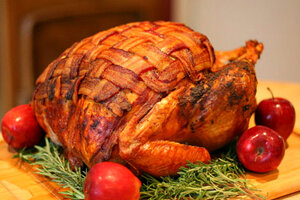 The Runaway Spoon
I've been perfecting this for many years now. I must say, it is a showstopper, and delicious to boot, because I treat it well. I send my turkey to a bacon spa. It gets a salt scrub, a bacon butter deep tissue massage, a hand-woven bacon spa robe, some time in the sauna and a little tanning to finish it off.
I've got a set of instructions here, more than a recipe, but this way there is enough detail to produce a beautiful bird.
Steps for creating a bacon-blanketed turkey
I usually cook an 18 – 20 lb. turkey. Not because I have a huge family, but because I like Thanksgiving leftovers. I always buy a fresh, never frozen turkey of the best quality I can afford. If you buy a frozen turkey, you need to get it in advance and leave plenty of time for thawing. You can do a computer search for the proper method. My methods below are for a big bird, but easily adapt to a smaller one.
What you'll need:
A large plastic bag
A platter or pan that fits the turkey in the fridge
Kitchen twine
A roasting pan that fits the turkey (and fits in your oven. Check. This is important.)
A probe-style meat thermometer
A turkey
Lots of kosher salt
1-1/2 pounds bacon
1/2 pound butter
Fresh herbs: sage, thyme, oregano, parsley, marjoram, rosemary
Roasting vegetables: carrots, celery, onions, leeks, apples
Step 1: Brine your bird
I dry brine my turkey for a juicy bird. I used to wet brine, which involved removing drawers from my fridge and stuffing turkey into a large stockpot full of salted water. That is a lot of trouble. Here's my easy solution that makes for a lovely moist turkey.
Start the brine 2 to 3 days before Thanksgiving. Remove all the interior parts from the bird. Discard them or use them for stock, or the giblets for gravy. Wash the bird well, inside and out. Place the bird in a great big plastic bag. Cookware stores sell fancy "brining bags" but a cheap browning bag from the grocery works just as well, or a big Ziplock bag. Go to town rubbing kosher salt all over the gobbler, inside and out. Use a lot of salt. Wash your hands. Tie the bag closed and place it on a platter or pan and put it in the fridge for up to two days. I do this on Tuesday, butter it up on Wednesday for cooking on Thursday. Thoroughly wash the sink you rinsed the turkey in. Right now.
Step 2: Butter and herb rub
Now we work on the flavor and added juiciness. I tinkered with this recipe for many years, until I hit on just the right method. I have always rubbed butter on roasted chicken or turkey, or covered it in bacon to keep the bird moist. For a big mama gobbler, I double down.
In a food processor, blend together 1/2 pound raw bacon slices, 1/2 pound butter and generous handfuls of fresh herbs. I like a lot of sage, some parsley, oregano, thyme, marjoram and maybe rosemary. A packet and a half of "poultry herbs" works well. Blend all this until you have a smooth paste. You can make this ahead and store the bacon butter in an airtight container for up to five days.
We eat our big meal at 1 o'clock, so I like to have everything ready to go in the morning. I prepare my bird on Wednesday evening and refrigerate it. I have a timer feature on my oven that lets me start preheating before I want to wake up, so the oven is ready for the bird when I stumble out of bed.
When you are ready to prepare the turkey, bring the bacon butter to room temperature. Take the turkey out of its salt bag and give it a good rinse. Place it breast side up on a large platter or pan that will fit in the fridge. Wash the sink you rinsed the turkey in. Now. If your turkey comes with a pop-up timer, remove it now. It's useless. Wash your hands, remove your rings and watch and gently separate the skin from the flesh. Lift the skin by the cavity and gently slide your hands under the skin. It will pull away from the flesh. Keep going to get the skin opened up all the way to the neck and over the legs. Try not to tear the skin, but don't fall apart if you do. It's not a big deal. Now take big fistfuls of butter and rub it up under the skin and over the flesh. Use about 3/4 quarters of the bacon butter under the flesh. Pat the skin down and press the butter into a pretty even layer under the skin. Rub the remaining butter over the outside of the bird, paying particular attention to the legs, which will not be covered by the bacon blanket.
---
Follow Stories Like This
Get the Monitor stories you care about delivered to your inbox.