Chocolate turtle cookies
(Read article summary)
This "thumbprint" fudgy, nutty cookie with a caramel center is perfect for holiday parties.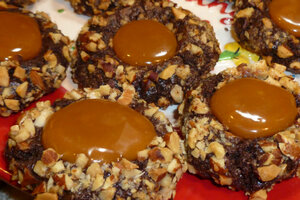 The Pastry Chef's Baking
I love "thumbprint" cookies for holiday parties. They're cute, little, and tasty. I was already making Peanut Butter Chocolate Kiss Cookies for my dessert party so I went with this as a different cookie option. Instead of Hershey Kisses in the middle of the cookie, this held a well of caramel. Caramel, chocolate, and toasted almonds (or pecans) – you can't really go wrong with this combination. I made the dough ahead of time and completed the steps of rolling the cookie dough balls in the egg white and chopped nuts then making the well in the center. After that I put them in freezer bags and stashed them in the freezer until baking time.
Let me just say this cookie is a good reason I can't stop trying out new recipes. Even though I have a veritable treasure trove of tried and true cookie recipes, you just never know when you're going to discover another gem. And this is a gem. I'm so glad I found it and tried it because it's going to have a regular place in my holiday baking from now on. This is a seriously good cookie.
The texture is like a chewy, fudgy cookie, the nuts provide a nice crunch and the caramel was divine. Seriously. Plus they're cute, right? My only issue with it is my cookies spread more than I would've liked even though I baked them from frozen dough and on the convection setting in my oven. There wasn't a "well" for the caramel as much as a "little dip." I did re-impress the center with a half teaspoon to make it more well-like but the cookie still had a little spread. But that's not enough of an issue to stop me from making these again (and again). I will just need to play with the ingredients a bit to see if I can have it spread less, perhaps add a smidge more cocoa.
---