Chocolate-dipped green tea shortbread cookies
(Read article summary)
Japanese matcha green tea and bittersweet chocolate make these buttery shortbread cookies deliciously decadent, with coffee or tea.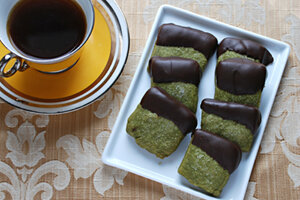 Blue Kitchen
This post was written by Terry's wife, Marion Boyd.
It's the time of year again when people are streaming in and out of our house, and we are streaming in and out of lots of other houses, too. To help with all the festive to-ing and fro-ing, we like to have some lovely treats on hand. This year, for the first time, we've added green tea shortbread cookies to our arsenal.
Shortbread cookies are so wonderful – buttery, delicate, crumbly goodness. Adding matcha (Japanese powdered green tea) gives them a faintly herbal, haunting note – still delicate, but with a slightly sophisticated edge.
The Internet has zillions of shortbread recipes, but really there is only one. Deb over at Smitten Kitchen notes that, in her green tea shortbread cookie recipe, and so it is. There are faint variations in the amounts of this or that, and now and then someone will add an egg (noooooooo!), and the cookie décor might be different, but really, look around. All the recipes are the same.
Shortbread cookies have very few ingredients, so each one needs to be fresh and of high quality. I recommend using familiar, fresh, unsalted American-style butter rather than a European-style butter like Plugra. The difference is that American butters have a higher water content, and when you are making shortbread, you need that extra bit of water to help it transition from a collection of inchoate ingredients into a single mass.
Regarding the green tea, we hope you will use the best matcha you can find. See the Kitchen Notes for a couple of outlets we recommend.
The most onerous part of this process is melting the chocolate, and that part isn't complicated at all.
Chocolate-dipped Green Tea Shortbread Cookies
Makes about 2 dozen cookies
2 cups flour
1 teaspoon salt
1/2 cup plus one tablespoon powdered sugar
3 tablespoons unsweetened green tea powder (matcha – about 1/2 ounce)
---