Holiday caramel treats
(Read article summary)
Vanilla cookies dipped in caramel and rolled in nuts, a perfect treat-on-a-stick for holiday parties.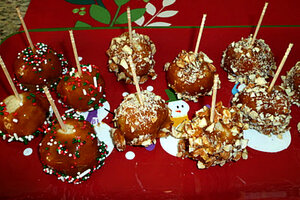 The Pastry Chef's Baking
I had my holiday dessert party with my high school friends last weekend and it was a lot of fun. It was great to catch up with everyone and you know you're very fortunate when, after everyone has left, you realize what nice friends you have. This is what the holidays are about, not the stress of preparing for them.
To help alleviate that stress, I went with some reliable stand-by recipes. I had prepared enough cookie doughs in advance that I could (and did) change my mind as to what to serve. My friend Lisa likes lemon bars so I made those, using my old standby recipe since I had already made my new favorite, the Three-Layer Lemon Bars, last week.
I also made the peanut butter kiss cookies that always seem to be a holiday favorite as well as a year-round favorite, Alton Brown's Chocolate Chip Cookies.
Since I had enough of the tried and true cookies to serve, I also decided to try a new recipe. A few of my friends were bringing their kids so I included this cookie as something fun for the dessert table for them. I felt safe taking a calculated risk on this new recipe because the base recipe is very similar to Mexican Wedding Cakes but without the nuts in the dough and you cover it with caramel instead of powdered sugar. I can live with that. Plus it's the kind of recipe I need to try for parties rather than care packages since anything covered in caramel usually don't package well or ship well.
After the cookies are baked, you stick a toothpick in the center, let them cool then dip them in caramel and roll them in nuts. I switched it up a bit in case anyone didn't like nuts and did a few in red and green sprinkles for the kids.
---