Red velvet polka dot cookies
(Read article summary)
Festive red velvet cookies add a colorful touch to holiday cookie plates.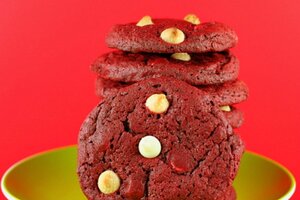 The Runaway Spoon
Red Velvet Cake is a real childhood memory for me. I have an aunt who makes a great one. But it was definitely not trendy or cool or in. Red Velvet was seriously down-home, real country food. It wasn't even a standard on diner menus. But that all seems to have changed.
I am dubious about this hipsterfied version. I have had some really, really bad red velvet made by places that charge huge amounts for small cupcakes, and advertise that it's the best-selling flavor. I even had a red velvet cupcake in London, but it was an abomination. In fact, it seems that anything with a little red food coloring in it is now called "red velvet" and earns a premium and a lot of attention. No, I don't like this trend at all.
But Christmas is different. We all love fun and whimsical at Christmas, and bright red sweets just fit the bill perfectly. These cookies with their chocolate-y richness, ruby color and festive white snowdrops will delight kids, but they will also make an impression at a cookie swap.
Red Velvet Polka Dot Cookies
Makes 30 cookies
1 cup (2 sticks) butter, softened
1-1/2 cups granulated sugar
2 eggs
2 teaspoons vanilla extract
2 cups all-purpose flour
2/3 cup cocoa powder
1 teaspoon baking soda
1/4 teaspoon salt
1 (1-ounce) bottle red food coloring
1 (11-ounce) white chocolate chips
Preheat the oven to 350 degrees F. Line 2 baking sheets with parchment paper.
In the bowl of a stand mixer, cream the butter and sugar until light-colored. Add the eggs and vanilla and beat until fluffy and light.
---