Meatless Monday: How to make homemade tofu
(Read article summary)
The only ingredients are Epsom salt and soy milk. The only equipment you'll need is a stainless steel pot, a couple of wooden spoons, and a piece of cheesecloth.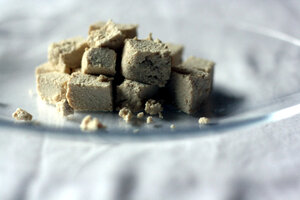 The Asian Grandmothers Cookbook
I've tried making tofu several times now and the process never goes exactly the same.
I'm always surprised – the resulting tofu may turn out a little firmer or a wee bit spongier. I really can't tell you why but that's OK since it always tastes good. I just mix it up, using the tofu in different recipes. Keep in mind, the quality of your soymilk plays a huge part in how your tofu will turn out. In other words, keep experimenting until you're satisfied!
As for equipment, I took out my stainless steel pot, a couple of wooden spoons, my recently-purchased cheesecloth (you can use a thin cotton non-terry dish towel or handkerchief), and I was ready to start tofu-making.
True to "no fancy equipment" form, I decided to convert an old plastic tofu container into a makeshift tofu press. I turned it upside down and started cutting into the nicks that were already molded into the plastic, making sure the slits were big enough to allow liquid to drain through. Clever, eh? You could also use a colander to press your tofu.
Homemade Momen Tofu
Time: 45 minutes to 1 hour
Makes: about 14 ounces of tofu
2 teaspoons Epsom salt
4 cups soymilk (storebought or homemade)
Stir the Epsom salt into 1/2 cup hot water until it completely dissolves.
In a large pot, bring the soymilk to a gentle boil over medium-high heat. When steam starts to appear and bubbles form around the edge of the pot, reduce the heat to medium. Simmer for about 3 minutes, stirring often to ensure the soymilk doesn't burn. Remove any film that forms on the surface.
---