Food-related gifts that give back
(Read article summary)
Here are some last-minute gift ideas that help others in need with every gift you give.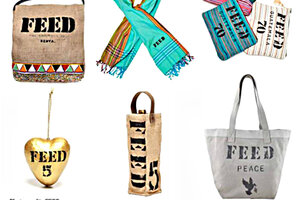 Blue Kitchen/FEED
The idea behind FEED is simple: fight hunger and malnutrition around the world by providing free lunches at school. Through the United Nations World Food Programme and UNICEF, FEED does just that – and more. School feeding is one of the most effective solutions to stopping hunger and helping children break out of the poverty cycle they were born into. When boys and girls are given a free, nutritious meal in school, research has shown that attendance and performance greatly increase.
To raise funds, FEED sells a wide array of stylish gifts, from tote bags to toys, apparel, accessories and more. And each gift tells you exactly how many meals you'll be providing and where. You'll find great gift ideas for everyone on your list at the FEED website.
Cheery Le Creuset stoneware Mini Cocottes are perfect for making and serving individual servings of mac and cheese or other sides or desserts. And for every set purchased, Le Creuset will donate $20 to Share Our Strength and its No Kid Hungry campaign. Share Our Strength began in 1984 with a mission to fight hunger around the world. In 2004, it turned its focus on ending childhood hunger in America. You can order these Mini Cocottes at the Le Creuset website. (Thanks to Lydia over at The Perfect Pantry for turning me on to this one.)
---