Linguine with Ragu Bianco and nose-to-tail tales
(Read article summary)
Ground pork and pork liver are cooked with mushrooms, shallots, garlic, fennel, and thyme, then finished with cream in this traditional Italian pasta sauce.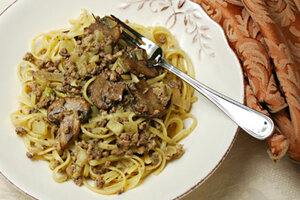 Blue Kitchen
I've been having offal thoughts lately. They started with a piece I recently wrote for The Christian Science Monitor weekly magazine on nose-to-tail eating. The current trend of using the entire animal – and indeed, the phrase nose to tail itself – began with publication of Fergus Henderson's seminal cookbook, "The Whole Beast: Nose to Tail Eating." As chefs are increasingly embracing the idea of cooking and serving "odd cuts," the CSM editors wondered if diners and home cooks were taking to those odd cuts. The short answer is yes.
When I got the assignment, I immediately thought of Rob Levitt, owner of Chicago's first whole animal, locavore butcher shop, The Butcher & Larder. We met Rob when he was chef at Mado, one of the city's first whole animal, locavore restaurants. Rob and his staff butchered, cooked and served pretty much every part of every animal delivered to the kitchen.
Besides serving up odd bits – pan seared beef hearts and pig head stew – Rob turned internal organs and trimmings into charcuterie, terrines and silky pâtés. Fat was rendered into lard for cooking, and bones became stock for sauces and soups.
In older, more practical, less squeamish times, using every bit of the animal was just what was done. Food was often hard to come by, especially meat, and you didn't waste it. Today, chefs, butchers and a growing number of home cooks are returning to cooking everything, partly to honor the animals. It makes good environmental sense, too. More than two-thirds of all agricultural land is devoted to growing feed for livestock; the more we use of the animal, the better the use of our resources. As a bonus, diners and home cooks are discovering that these odd bits are full of flavor and cheaper.
---