Super Bowl recipe: Black gold 49ers cookies
(Read article summary)
If you are rooting for San Francisco, celebrate the Super Bowl with these rich, gooey cookies. Fold chocolate chips and Milky Way caramels into the batter to make them 'black and gold.'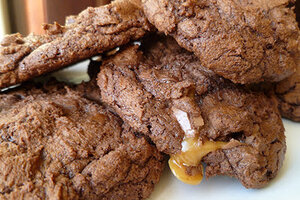 The Pastry Chef's Baking
I had decided on these cookies the day before the NFC Championship game. I adapted them from Hugs & Cookies but added Milky Way Caramels and am re-naming them Black Gold Cookies in honor of the NFC Champs, the San Francisco 49ers.
I've been a 49er fan since the 1982 NFC Championship game, 49ers vs the Cowboys, when Joe Montana threw the winning touchdown to Dwight Clark, aka The Catch. I've hung in there with the Niners over the years through thick (Montana, Clark, Jerry Rice, Roger Craig, Ronnie Lott, Steve Young, Coach Bill Walsh) and thin.... and thin and emaciation (we won't name names for these periods). We're getting back into "thick" territory again with a trip to the Super Bowl this weekend! So cookies in their honor seem apropos.
Why black gold? Because that's what chocolate is, of course. At least to me. But to make it more color literal, I added the Milky Way caramels and you can just see liquid gold peeking out from this cookie. This is a pretty rich cookie – we're talking 5-mile-run-afterward kind of cookie. As with most chocolate cookies, I actually prefer these at room temperature when the chocolate has a chance to set.
---