Loaded nacho chicken
(Read article summary)
Sometimes simplicity is bliss. Tortilla-coated chicken breasts topped with warm chile con queso, and a your favorite nacho toppings is weeknight dinner waiting to happen.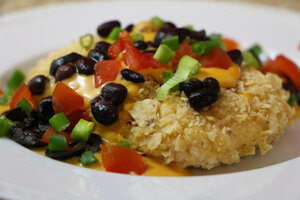 The Gourmand Mom
Like many young 20something couples, my husband and I spent a good amount of our time, energy, and income on accumulating stuff. We needed the stylish duvet from Pottery Barn, the flatware set from Crate and Barrel, and the clothes from JCrew.
When we married, we registered for the long list of items the registry guide told us we needed, fully believing that we would find frequent use for that fondue set and the espresso maker with the milk foaming wand. We gathered our items and checked them off the list of things we were "supposed" to have as well-equipped adults. We were consumers to the utmost degree.
But, recently, there's been a major shift in how we handle our "stuff management." I don't know if it's come with parenthood or age or just a general change of perspective, but we now purge, rather than collect. A few months ago, the microwave broke. I liked the counter space better than the microwave, so we didn't replace it, and we've been totally fine since.
The Blu-ray player broke a few months before that. We dropped it off at the place for recycled electronics and left the shelf empty. This past summer, we sold a good portion of the books and DVDs we'd accumulated over the years and have been thankful for the reduced clutter. Neglected toys and outgrown clothing, we regularly donate to our local rescue mission.
And what we "need" has changed, too. Gone are our days of overpriced, trendy bedding and clothing. We buy mostly everything from Target now and when our Dyson vacuum, which served us well for many years, finally bit the dust, we replaced it with a bargain-priced Bissell. And you know what? It's done the job just fine. Our priorities have shifted. We just don't want the same things we used to think we needed; things which take up too much space in our lives and leave wanting holes in our budget.
---