Banana pudding parfaits
(Read article summary)
Putting banana pudding parfaits in jars make them easy to store and easier to bring with you.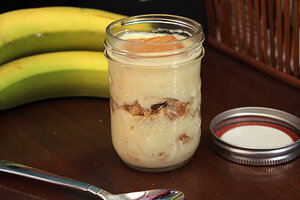 Whipped, The Blog
Somewhere online, I saw this book about desserts in jars. I sort of giggled at the idea that such a specific concept of "desserts in jars" could fill an entire book. But, once I thought about it, I decided it wasn't such a bad idea. I haven't yet flipped through Shaina's book but it did inspire me to build these banana pudding parfaits in jars. They kept well in the refrigerator and would be perfect for picnics or meals on-the-go.
Old fashioned banana pudding has always been a favorite of mine. I like it best the next day when the pudding has made the cookies just soggy enough but the bananas haven't broken down to mush. Since I am a vanilla pudding/custard addict, I prefer traditional, old fashioned vanilla pudding without flavorings or liqueurs adding banana flavor into the pudding. I let the fresh bananas do all the work. And, though I like whipped cream, I didn't include it in this batch. A little, freshly whipped cream cloud on top wouldn't hurt.
Usually, Nilla wafers are used in banana pudding recipes. I experienced a happy accident when I couldn't find them at my local store. Instead, I bought a box of Lorna Doones. The buttery, shortbread cookies were a welcome substitute and will be my first choice in the future. If you have leftover Girl Scout shortbread cookies, this might be a nice place for them to find a final resting place. If you really want to impress, make your own homemade shortbread cookies!
When our last jar of this banana pudding was left, our four-person family eagerly crowded around to share. Fighting almost ensued as little eyes determined whether or not each bite was of equal size. Though the elements are simple, this is one of my all-time favorite desserts. So comforting. Unctuous, rich homemade pudding layered with buttery cookies and fresh bananas. What's not to love?
---