Saint Patrick's Day Irish stew
(Read article summary)
High-quality lamb makes all the difference in this stew. Bacon adds a smokey saltiness, and peppery parsnips, sweet carrots, and potatoes compliment the other flavors nicely.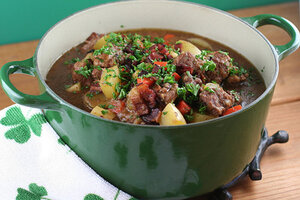 The Runaway Spoon
Like many traditional dishes of the British Isles, my first taste of Irish stew was in the dining hall of my college at Oxford. And it wasn't a particularly good experience. Tough meat, watery broth, soggy vegetables. But I never gave up on the notion; I just think I liked this dish in theory more than in concept. But a warming, hearty lamb and vegetable stew is just a plain good idea, so I stuck with it.
I have read many Irish stew recipes over the years and they are all pretty simple and plain, which I think is a hallmark of Irish cuisine. And I've made many versions, too, but I always felt they needed a little oomph. So I've added some bacon for smoky saltiness and browned the meat for extra richness. Some of the impetus for sticking to the dish is that I now find beautiful pasture-raised, local lamb, and good meat makes all the difference. I love the contrast of peppery parsnips, and sweet carrots, and of course, no Irish Stew would be complete without potatoes.
Irish stew
Serves 8
If you don't find ready-to-use stew meat, ask the butcher counter to cube lamb shoulder or leg for you.
3 pounds lamb stew meat, in 2-inch cubes
1 cup all-purpose flour
1 tablespoon salt
1 tablespoon coarsely ground black pepper
1 pound bacon
1 large yellow onion, finely diced
3 cloves garlic, finely minced
4 cups beef broth
3 bay leaves
6 sprigs fresh thyme
2 parsnips
3 carrots
2 yellow potatoes
chopped fresh parsley to garnish
Pat the lamb cubes dry with paper towels. Mix the flour, salt and pepper together in a large zip-top bag, then drop in the lamb and shake it around to coat each cube with flour.
---