Braised veal shanks with white beans
(Read article summary)
Elements of two classic comfort foods combine in satisfying braised veal shanks with white beans.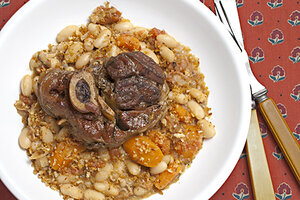 Blue Kitchen
Don't get me wrong. I love osso buco. I've even made the time-honored Italian dish. But when I recently got my hands on some nice looking veal shanks, I wanted to try something different. Apparently, I'm not alone in that. Nestled among a bazillion osso buco recipes that a quick search for veal shanks recipes brought up was this plaintive cry on Chowhound: "Need veal shank recipe – Not Osso Buco."
In my head, I traveled the culinary globe off and on for a couple of days. I spent a lot of virtual time in Mexico and Latin America, conjuring up tangy, spicy, chipotle-smoky dishes. Morocco called to me, with cumin, paprika, cinnamon, and golden raisins. In the end, though, I landed right next door to Italy, in France. And the resulting recipe borrowed from classic dishes of both.
For osso buco, veal shanks are braised for a couple of hours, often on the stovetop (for my version, I oven-braised them). This slow cooking makes the mild-flavored meat fork tender and infuses it with the flavors of the braising liquid – aromatics, herbs, wine, and stock. Small wonder this rustic dish is a favorite in Italian restaurants and home kitchens alike.
Cassoulet, comfort food as only the French can do it, blows right past two hours for cooking time. Not only do you cook everything for hours – one of the ingredients, duck confit, is duck that's already been cooked for hours. And you are further encouraged to cook the whole thing a day ahead and then cook it some more before serving.
---