Beef pot roast and potato hash
(Read article summary)
Leftover pot roast combines with potatoes to make a hash that shows why meat-and-potato dishes never go out of style.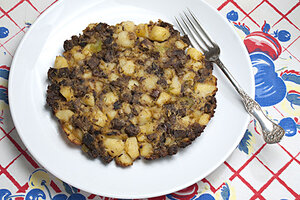 Blue Kitchen
Some foods are just made for each other. A grilled cheese sandwich and tomato soup; black beans and rice; apple pie and vanilla ice cream. And, of course, beef and potatoes.
These days we are not eating meat as often as we once did, trying to be more mindful of the way we live on the planet. But when we do, we still love it. And we don't waste any of it.
The arrival in the mailbox of the annual Saveur 100 issue was the gateway to a new to me recipe that is an old American classic: hash. The Saveur 100 is always one of my favorite reading events – it's a thrill when it arrives and a pleasure throughout the year. Saveur always talks about the coolest trends, the most amazing destinations, and of course the oh golly! examples of local favorites ("Ohio nachos"). I excavate it from our magazine mountain again and again throughout the year for inspiration or just to while away the time.
One item in this year's 100 particularly hit a chord with me: prime rib hash from Keen's Steakhouse in Manhattan.
I happened to make our version of this hash from basic, simple pot roast that happened to be left over from a recent wintry dinner. But this dish would be even more wonderful with out-and-out roast beef, cooled and then cubed. We took our leftover pot roast and sliced it into half-inch cubes, and that was the first step in this really rather easy to assemble dish.
Our version serves at least 4 people for a cozy weekend lunch or a comfy, casual evening of a dinner and a movie at home. Serve it with a leafy dark-green salad. For dessert, serve our gingerbread or cherry orange loaf cake, both of which you can make ahead. This hash also reheats well, good news for those of us who love tasty leftovers.
---