Cookbook review: Vegetable Literacy by Deborah Madison
(Read article summary)
Deborah Madison, a leading authority on vegetarian cooking, teaches home cooks how to coax delicious flavors out of vegetables by understanding their relationships to each other.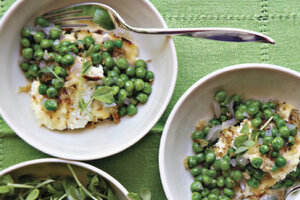 Christopher Hirsheimer and Melissa Hamilton © 2013
The phrase, "eat your vegetables," has long been used by stern-looking parents desperate to make their offspring eat something besides pasta and chicken fingers. To children everywhere, "vegetables" has meant mushy, bland tasting things that stand in the way of dessert. Unfortunately, many people carry the disdain for leafy, root-y edibles far into adulthood.
Vegetable Literacy by Deborah Madison may be the cookbook to change all of that.
"Vegetable Literacy," breaks new ground because it focuses on the relationships between the veggies that grow in your garden. Madison's theory is that if you understand these relationships, you'll find new freedom in the kitchen to mix and match flavors in away that allows zucchini, peas, squash, and so much more to harmonize their flavors instead of being treated like tolerated guests on your dinner plate.
"When we look closely at the plants we eat and begin to discern their similarities, that intelligence comes with us into the kitchen and articulates our cooking in a new way," writes Madison in the introduction to "Vegetable Literacy." "Suddenly our raw materials make sense.... Bringing plants' features into view can free us as cooks, make us unafraid to use some amaranth that's going full guns in the garden in the place of spinach, which has bolted and dried up. They are, after all, related."
The author's first clue that the world of vegetable relationships was a trove waiting to be revealed to home cooks came in the form of a second-year carrot gone to seed. The lacy umbel of its flower reminded of her parsley, fennel, cilantro, and even the wildflower Queen Anne's lace. After a little investigation, it turned out they are all members of the same plant family, and its edible members share culinary characteristics.
Madison, a leading authority on vegetarian cooking, has a wealth of knowledge and insight on how to cook vegetables in a way that tames their bitterness. Rutabagas, for instance, are a root vegetable that, in Madison's words, get "relegated to a lowly spot at knee level" in the grocery store. This tough, winter root shaped like a fat turnip is adored by equally hardy Scandinavians and northern Europeans when paired with butter and cream. Rutabagas are actually part of the large and unruly cabbage family – full of characters ranging from the fiery to the bland – which Madison says most "nonvegetable eaters approach with dread."
---