White bolognese sauce
(Read article summary)
Chase away the end-of-winter blues with this homemade bolognese sauce. Veal, Italian sausage, fennel, and leeks give it a unique, bright flavor.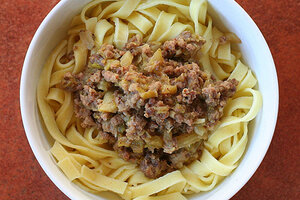 The Runaway Spoon
It is that time. My stock of frozen sauce made from summer's freshest tomatoes is dwindling, and I am hoarding those last little bags. Hey, I do like a sauce made from quality canned tomatoes as well (my standard Bolognese uses them), but after a steady diet of the fresh stuff, it's hard to switch over.
That's where this comes in. A bridge Bolognese if you like, between the deep cold of the winter and the tomatoes of summer. This sauce is hearty and warming, but somehow brighter than a rich, deep red Bolognese.
And this recipe represents what I think home cooking is all about. Blending and creating and combining until you find the taste that suits you. I first saw white Bolognese on a menu at an Italian restaurant, but I couldn't picture what that meant, so I didn't order it. But a friend at the table did, and ate every bite. That made me curious.
So I researched and read a lot of recipes and figured out this version that features the flavors I like; the combination of veal and fennel-laced Italian sausage, mild leeks and the punch of fresh fennel. White wine instead of red gives the characteristic zing. I shy away from traditional Bolognese ingredients; this doesn't need onion or garlic or carrots, basil, or oregano. This is not some kind of substitute for red sauce, but a creation all to itself. What this lacks in looks, it more than makes up for with punchy, bright flavors.
White bolognese sauce
Serves 4
1 pound ground veal (or pork)
1 pound Italian sausage meat
1 medium fennel bulb
2 stalks celery
1 leek, white and light green part only
1/4 cup olive oil
1 bottle (750-ml) dry white wine (may substitute cooking wine)
4 cups chicken broth
6 large fresh sage leaves
1/2 teaspoon fennel seeds, crushed in a spice grinder or mortar and pestle
---