Meatless Monday: Vegan mandarin coconut cookies
(Read article summary)
This vegan cookie made with fresh coconut and citrus juice keeps its promises to be delicious.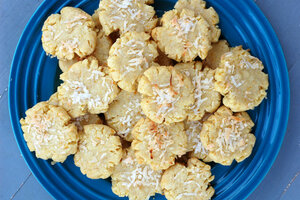 The Garden of Eating
I've been known to make disparaging remarks about vegan baked goods so for me to say that these cookies are delicious means they are truly delicious.
Our friend, Karen who is the innkeeper at the lovely Woodstock Inn on the Millstream in Woodstock, N.Y., had made a batch of these the last time we stopped by to let my son Will move sand in his dumper and throw rocks into the stream.
Karen was very generous with her cookies and we sat around in the inn's kitchen/office enjoying them. When I asked for the recipe, she told me that it was from Whole Foods. So I Googled "Whole Foods mandarin coconut cookies" when we got home and, sure enough, there it was.
I've adapted their recipe slightly below as there were a couple silly / inefficient things in their version. For example, instead of removing the skin of the tangerines with a vegetable peeler and then chopping it to obtain enough zest, I've changed it to just zesting the tangerines. Time is precious, after all.
We happened to have a small pile of tangerines that were not getting any younger sitting on the counter so the timing was perfect. And I had the rest of the ingredients: coconut oil (which is great to cook with!), flour, sugar, baking powder, vanilla, salt, and coconut flakes, too.
Will "helped" me make them. His favorite part was drinking the freshly squeezed tangerine juice and eating the sweetened coconut – and eating the cookies, of course. He told me recently in a very solemn and proud little voice, "Mama, I can eat SO much sweet things." Which is true.
Since we usually use eggs in our cookie dough (this vegan recipe is a real anomaly for me), he assumed that this dough was also off-limits for eating. And I saw no reason to tell him otherwise.
The dough is kind of fun to handle – the texture is soft and marzipan-like with a delicious sweet smell from the coconut oil and the tangerine juice.
I also enjoyed smushing the cookies with the bottom of a glass dipped first in water and then in the coconut flakes to flatten them out for baking.
I think the cookies end up looking a little bit like flowers. Seems fitting now that it's spring and the warmer weather is on its way. Enjoy!
 Mandarin Coconut Cookies
Adapted from Whole Foods' recipe
 Makes roughly 3 dozen
 
2 mandarin oranges, such as satsumas or clementines
1-1/4 cup sugar 
3/4 cup organic, virgin coconut oil, melted and cooled slightly
2 teaspoons pure vanilla extract
2-1/2 cups all-purpose flour
1 cup finely grated dried, sweetened coconut, divided
3 tablespoons cornstarch
1 teaspoon baking powder
1/2 teaspoon fine sea salt
 
1. Preheat the oven to 325 degrees F. Use a microplane zester to obtain 1 tablespoon zest. Juice the mandarins to obtain 1/4 cup juice. Set aside.
 
2. In a large bowl, beat 1-1/4 cups sugar and oil on medium speed for 1 minute. Add the tangerine juice, zest, and vanilla and beat again. Add flour, 1/2 cup coconut oil, cornstarch, baking powder, and salt and beat again until combined.
 
3. Form the dough into 1-1/2-inch balls. Arrange the balls two inches apart on a parchment-paper-lined baking sheet (I used my Silpat but it's worth noting that  both parchment paper and Silpat contain silicon so, if you're concerned about that, my guess is you could also just grease a cookie sheet with equally good results.)
 
4. Dip a flat-bottomed glass in water and then in the sweetened coconut flakes. Press down firmly on each cookie, re-dipping the glass as needed. Bake until golden brown and just firm, about 15 minutes.
 
---