Coconut rice pudding with caramelized banana
(Read article summary)
Trying to cut back on sugar and baked goods? Satisfy your sweet tooth in a healthy way with this dairy-free, gluten-free, vegan coconut rice pudding. Add caramelized bananas, nuts, dried fruit, or honey as tasty toppings.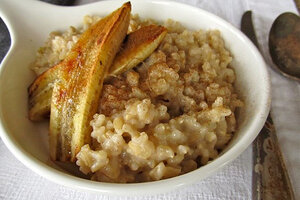 Beyond The Peel
I fell in love with this easy to make and "hits the sweet spot just perfectly" coconut rice pudding about 5 years ago. It's almost a fool proof recipe, made from pantry staples. Before this website ever existed and before my whole food journey began, there was this rice pudding. The only change I've made to it since is the type of sweetener I use. I like that I can make endless versions of this based on my mood and what I have on hand.
If you're new to whole foods, trying to limit the amount of pastries, cakes or chocolates you eat may be challenging. And eliminating all treats may have you doing a bakery drive by like some crazy person. If you're just starting to reduce the amount of processed foods or sugar in your diet, this type of craving can hit hard. And you know what else? It happens to most decent people. It really does. At least in the beginning.
In fact, I had a moment like this, the day I discovered this rice pudding. The only thing was, there was no bakery or pastry shop in sight. In fact, no store of any kind. I was living at a fire tower in Northern Alberta, over an hour's drive away from anything store-like and unable to leave the tower (on call almost 24 hours a day), I needed to think fast. I had run out of eggs, had no milk, or dairy for that matter, no chocolate and I really needed a "sweet fix."
This is the dessert that saved me. It now makes a regular appearance and in fact, I make a big batch and freeze individual portions for quick easy dessert solutions when, and if, a sweet tooth decides to hit. Now I know it's no slice of triple layer chocolate cake iced with chocolate ganache. That's kind of the point. It's mildly sweet, slightly nutty and won't leave you feeling that "post sugar binge regret." In fact, I've even had this for breakfast!
---