Tomato barley soup with feta and green onion biscuits
(Read article summary)
This simple tomato soup is chock-full of veggies and flavors. For a weeknight dinner, this soup demands biscuits. Add feta and green onion to your dough for a savory twist.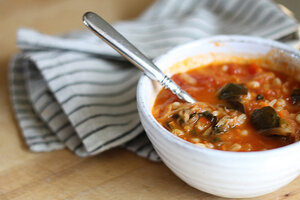 In Praise of Leftovers
Three generations. Riding bikes in the sun.
After our bike ride with Grammy, Poppy, and the kids yesterday, I told Yancey, "This is a very short window. The oldest are healthy, the youngest can ride a 2-wheeler, and the 10 year-old still wants to be with us." A little blip on the screen, really. And all the more precious for it.
After our ride, we came back to the house and grandparents played cards with kids while I made dinner. We have people over a couple times a week, and I usually plan ahead more than I did last night. Nothing prepped, chopped, or even dreamed up.
Enter Refrigerator Soup, though I've named it something else here. A vegetable soup like this:
1. ... is a wonderful way to pack in oodles of veggies.
2. ... makes great leftovers (not that I have ever devoted any time to thinking about that).
3. ... is endlessly variable.
4. ... makes a pretty picture.
5. .. kind of demands biscuits. I made a divine variation. (See recipe below.)
Tomato barley soup
The great thing about a soup like this is that it's almost impossible to mess it up. Don't go light on the salt, taste as you go, and have fun cleaning out your fridge!
1/4 cup olive oil
1 large onion, finely chopped or thinly sliced
2 large carrots, finely chopped
1 large red bell pepper, finely chopped
4 cloves minced garlic
2 cans chicken stock (or water)
1 14-ounce can diced tomatoes with juice
1 28-ounce can crushed tomatoes
1/2 head of small cabbage, finely shredded
Few big handfuls of chopped fresh kale
1/2 cup quick-cooking barley (or 1 cup cooked grain, like rice)
Big handful fresh basil, coarsely chopped
Juice of 1/2 lemon
Lots of coarse salt
Pepper
1. Heat up the olive oil in a large stockpot or Dutch oven. Add onion and cook for 5 minutes. Add carrots, red pepper, and garlic, and sauté until soft, about 10 more minutes.
---