Vietnamese chicken glass noodle soup, and a family story
(Read article summary)
April 30, 1975 marked the end of the prolonged Vietnam War. Here's how one father remembered finding his way to the United States – and a new life – fueled by a sweet family reunion and miến gà, a chicken glass noodle soup.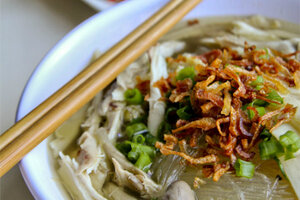 The Ravenous Couple
This is a special guest post told by my dad, Tung. He's been hanging out with us for the past month helping around the garden and loves to tell stories and repeats them almost endlessly. We asked if he had any stories and food memories to share with readers of TheRavenousCouple.com. This is what he told us. – Hong Pham
Every April, I can't help but reminisce about the indelible memories I call "Black April," April 30, 1975. It signified the end of the prolonged Vietnam war ending years of sacrifice and bloodshed of both Vietnamese and Americans. When the war ended, my life, and the life my family knew, changed forever. Because I was a high school teacher and a former soldier in the South Vietnamese Army, I was placed in re-education camps at Tay Ninh, Phu Quoc, and Long Khanh and survived 3 years of forced hard labor. Many of my friends did not survive but I was more fortunate and three years was relatively short compared with those who were imprisoned 10 or 20 years. I did everything possible to survive, even resorting to eating anything I could forage or catch such as grasshoppers, lizards, and even snake.
Meanwhile, my wife, along with our oldest daughter, Tam, and son, Hong, had to fend for themselves, waiting for me to come home. Finally in October 1978, I was released but I realized that Vietnam was no longer the Vietnam I knew and that my children would not have a future there. I decided to escape Vietnam with my family at all cost. Even though I knew escaping could lead to our family's death or separation, I was willing to "tìm caí sống trong caí chết," to find freedom at all cost, dead or alive.
---