Easy as, well, mango banana bread
(Read article summary)
Mangoes, in season April through June, are at their peak right now. Ripe mango and bananas, chopped walnuts, and vanilla create a flavorful, not-too-sweet dessert (or breakfast) bread. Substituting canola oil for butter lightens it up.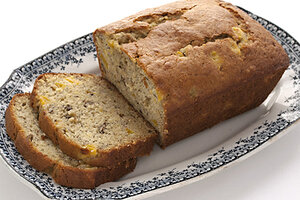 Blue Kitchen
That's right. The guy who never bakes has baked again. But a bread like this is so easy that it doesn't feel like baking. There's no sifting, no kneading, no waiting for dough to rise (and punching it down and waiting some more). You don't even need to haul out the mixer for this bread – a wooden spoon will do just fine.
Of course despite the name, mango banana bread is really more of a loaf cake than a bread. And therein lies some of the ease. You're not producing a temperature-humidity-time-sensitive dough; you're making a batter. At least for me, batters are much more forgiving.
For everyone else, too, it seems. In looking at banana bread recipes, my starting point for this one, I found that ingredients (and quantities of said ingredients) varied impressively. Three bananas, five bananas. Two cups of flour, a mere 1-1/4 cups. One egg or two, milk or no milk. Baking soda only (and not much of that) or baking soda and powder. Butter or oil or (yikes) margarine. And yet all produced results people were happy to share.
So why mangoes? For starters, they're in season right now. Yes, since they're grown everywhere from Asia to South and Central America, Spain, the United States (Florida, California and Hawaii), Australia and Africa, you'll find them in the supermarket pretty much year-round. But from April through June, they're especially plentiful, flavorful, and affordable. The mango's orange/melon/apricot flavor works equally well with sweet and savory dishes, showing up in salsas, sorbets, chutneys and even cocktails.
---