Garlic butter, not just for bread
(Read article summary)
Spread garlic butter on top of hot steak and watch as it melts to make a sauce. Or toss it with fresh pasta or use it for stir-frying vegetables. Just about any use of butter will be enhanced with the addition of this savory flavor.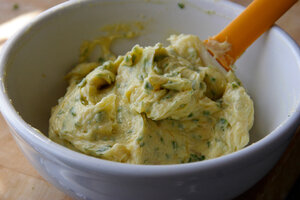 Tastes Like Home
There is no doubt that garlic butter is magnificent on warm bread. My garlic butter butterflaps are usually snapped up in no time as they come warm and fragrant to the table. But this savory and highly aromatic compound butter can be used for a lot more.
Garlic butter is a compound butter. A compound butter is a butter that is mixed in with other ingredients to create a flavored butter. Fresh herbs, spices, and roasted aromatics such as garlic are mixed into butter; the mixture is then transferred to plastic wrap or parchment paper, rolled up and chilled to make cutting into slices easy.
Compound butters are melted on top of hot food items such as meats and vegetables, used as a spread and to finish various sauces. Because they are used in such prominent ways, it is important that you make the compound butter using a high quality butter. Yes, you can use margarine but the flavour would not be the same.
The most popular compound butter we make is garlic butter and most of the times we use it exclusively to make garlic bread but there many other ways in which garlic butter can be used to impart flavor and lift the ordinary to the extraordinary. While you can buy garlic butter, it is easy to make at home. Splurge on getting the top quality butter instead of buying the pre-made version from your supermarket.
Start by roasting the garlic (see recipe below). You can flavor the butter even more by roasting the garlic with fresh thyme, rosemary, or marjoram. Mix the roasted garlic pulp with room temperature butter along with some finely minced parsley or chives, scallions/green onions, and you're done.
Uses
Spread garlic butter on hot toast or savory scones such as cheese scones.
Add a thick slice or two on top of your hot steak and watch it melt and baste the meat while making a sauce in which you can drag each slice of steak.
Steam fish and add a dollop of the butter and let it flavor, baste and sauce the fish.
Massage a chicken with a generous amount of the flavored butter and roast it for a garlic flavored chicken and a sauce that would have you licking your fingers.
Sauté shrimp with it.
Garlic butter is great for quickly stir-frying quick cooking vegetables such as cabbage and spinach (callaloo).
Bake potatoes whole, cut open and drop a thick slice of garlic butter and let it melt and quickly absorb into the flesh of the potato.
Boil pasta and toss with garlic butter.
Cook rice and stir the butter into the hot rice. Yum!
Boil and slice ground provisions while still hot – cassava, plantains, sweet potatoes, breadfruit, and flavor with garlic butter.
Brush onto boiled or roasted sweet corn.
If steaming vegetables is your preferred way of having vegetables, then add a little garlic butter while still hot and make those steam veggies into something sumptuous.
---