Peanut butter breakfast bars
(Read article summary)
Looking for a quick and healthy breakfast on the run? Try these peanut butter breakfast bars paired with a smoothie or fresh fruit.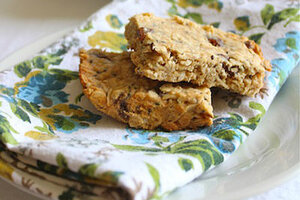 Beyond the Peel
So where should I start? Delicious Peanut Butter Bars or my Costco shopping cart confession? Let's start with my Costco shopping cart and my embarrassing confession. I like getting the bad stuff out of the way first.
Deep breath… I, France Jeanne D'Arc Morissette, creep on other peoples grocery carts. I know, I know! So bad but it's true. Why am I telling you this? I must be sick in the head! It's true. I do the grocery cart creep.
It's terrible, I know, but it's like this sick compulsion that I simply can't resist. I'm fascinated by what people like to buy. What are they going to make with that? Is that their dinner? Do they know what's in that?! Ooh, can I come over? That looks like it's going to be good! I've even contemplated being a cashier at a grocery store just to satisfy my curiosity. Rest assured, I haven't let that compulsion get to that extent. No career changes, yet.
Now onto Peanut Butter Bars! Want to know why I love these bars?
OK, I'll tell you. They're easy, fast and the ingredients are fairly flexible. You could literally make these at breakfast and enjoy them … for breakfast! Five minutes to prepare and mix, 15 minutes to bake, 5 minutes to cool (longer is better), you'll be eating one in 25 minutes. Of course these are also good as a snack or any ol' time really.
Now about flexibility, feel free to play with the ingredients a bit. Try other dried fruit instead of raisins, you can use maple syrup as a sweetener. I've given a few suggestions at the end of this post but I'm sure your creative minds will come up with all kinds of fun ideas.
---