The original fusion food: Sicilian
(Read article summary)
Don't confuse the culinary traditions of Sicily with those associated with the rich red sauces of 'Italian food.' A new cookbook from the editors of Phaidon Press reveals Arab and Greek influences found on the sun-soaked Mediterranean island at the tip of Italy's boot.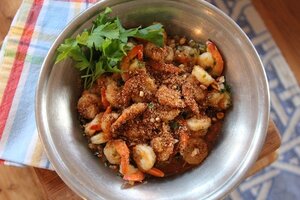 Beth Beeman
Sicily is a long way from California where I live. But one can travel through food and that's what I did with the new travel-worthy cookbook Sicily from the editors of Phaidon Press Limited.
The book is a compilation of more than 50 recipes with narrative text by noteworthy chef Pamela Sheldon Johns. Recipes are accompanied by gorgeous full-page Edward Park photographs. The preface of "Sicily" provides a short but insightful history into the island explaining that many different cultures have been master to her culinary puzzle. Arab influence can be found in savory couscous dishes and sweets draped with marzipan. A heavy reliance on almonds and toasted sesame seeds also came courtesy of the Arabs. Greek rule brought eggplants, oranges and apricots. The cookbook calls it the original fusion cuisine. I think that's right. To understand Sicilian history is to understand her food. It should never be called Italian. It is Sicilian.
For the reader, the cookbook is broken up into nine chapters corresponding with the nine Sicilian provinces of Trapani, Palermo, Agrigento, Caltanissetta, Messina, Enna, Catania, Ragusa, and Siracusa. Ms. Sheldon Johns has crafted an introduction to each section that is followed by traditional mouthwatering recipes. You can read the book straight through or skip around as I did, as a virtual traveler, selecting that area that most interests you first.
I spent some extra time in the chapter on the Agrigento province as my grandfather was born in the tiny hilltop town of Santa Margherita di Belice. I was curious about the food he enjoyed as a young Sicilian. Pasta con sarde, or pasta with fresh sardines, is part of our family lore and the cookbook did not disappoint. Fresh sardines and fresh anchovies are nothing like the dried, canned and salted versions that often top our pizza here in the United States. When fresh, they both have a very delicate and light ocean taste. Last summer while vacationing on the Italian coast of Cinque Terre, I had anchovies soaked in lemon juice that tasted nothing like their salted dried cousins. If you have any problems finding sardines in your local grocery store, they can often be found in Japanese markets. Ask for iwashi, that's sardines in Japanese.
---