Paula Deen: Fans serve up heaping helpings of support
(Read article summary)
The Food Network has dropped Paula Deen from her roster for admitting to making racial comments. Is this the end for the Southern food star? Fans hash it out on social media networks.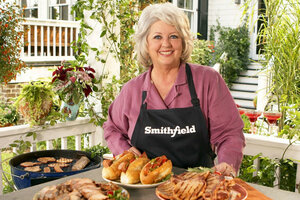 Smithfield Foods via PRNewsFoto/AP
Having been fired from the Food Network, Paula Deen has officially entered the next chapter of her cooking career. Whether it will continue to sizzle or now be shelved in the back of the food-celebrity pantry remains to be seen.
But there's no question that Ms. Deen's fans are now serving heaping helpings of outrage.
"The majority of the people that we all love in the world of entertainment are racist and have other view points that we would cringe and rage over. I don't care if [Paula Deen] is or isn't racist. I just want to watch her make a pie. This is foodnetwork. Not lets play politically correct network," writes April Campbell on the Food Network's Facebook page under a photo of "30-minute pasta salad." More than 400 people showed support by "liking" Ms. Campbell's comment.
Just a few short years ago, Ms. Deen was the Grand Marshal of the 122nd Rose Bowl parade in Pasedena, Calif. Today the queen of Southern cooking and author of 14 cookbooks has been kicked out of the food court and into the center of swirling racial controversy.
In case you missed the news, The Christian Science Monitor (among others) reported earlier this week that the now former Food Network star and Savannah, Ga., restaurateur said in a May deposition related to a harassment lawsuit, that "of course" she had used the "n-word," but not in a "mean way."
---