Fourth of July recipe: Chocolate covered strawberries with popping sugar
(Read article summary)
Fourth of July means fireworks. Carbonated sugar is one way to bring some pop! to chocolate covered strawberries.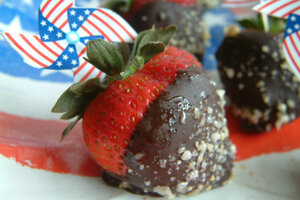 Kitchen Report
Remember Pop Rocks and how fun it was to have a little explosion taking over your tongue?
Molecule-R, which makes molecular gastronomy kits for the "amateur chef" to make edible and unusal delights in your own humble kitchen, has packaged popping sugar in 2.8-ounce canisters. I thought popping sugar would be a great treat for the Fourth of July – fireworks in your mouth!
The popping sugar, which is really just carbonated sugar, has limited uses, however. If the sugar is mixed with aqueous liquid, it melts and loses its popping characteristic. So you can't bake it into brownies (my first choice). In fact, I mostly found recipes for adding the carbonated sugar to chocolate candy. Popping sugar "does not melt when in contact with fat or oils so it can be mixed with ingredients such as chocolate, foie gras, ice cream or icing," says Molecule-R. Which means frosted brownies could work!
But since strawberries are in-season in July, and beautifully display the vibrant red of the holiday colors, chocolate covered strawberries sprinkled with popping sugar make a perfect treat for the Fourth of July. Only don't tell your friends about the sugar! Let them be surprised and watch their eyes grow round with childlike wonder (panic?) when they take a bite. Heh, heh, heh….
---