Too hot too cook? Try Summer peach salad with chocolate vinaigrette.
(Read article summary)
When it's too hot to cook, this summer salad from Matt Kadey's 'The No-Cook, No-Bake Cookbook' has enough protein and flavor to serve as a main course for dinner.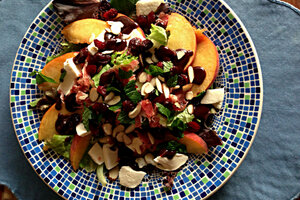 Kitchen Report
A few weeks ago I received a cookbook to review: "The No-Cook, No-Bake Cookbook: 101 Delicious Recipes for When It's Too Hot to Cook" by Matt Kadey. With summer temperatures in Boston this year especially sultry for days and days on end, it seemed like a perfect time to test out one of the recipes.
Flipping through breakfast, starters and sides, main dishes, and desserts, Peach Salad with Chocolate Vinaigrette caught my eye. Fresh peaches, prosciutto, mozzarella, mint, dried cherries, and almonds drizzled with a chocolate dressing? What's not to like? And it was considered a main dish. Chocolate for dinner, hooray!
I don't have too much experience using chocolate in savory dishes. When I attended Chocolate Week at the Cotton Tree Lodge with Taza Chocolate in Belize, the experience culminated with a grand dinner that included chocolate in every course. The main course was chicken mole. Taza Chocolate introduced me to chocolate covered cacao nibs and I've started using them to add flavor and crunch in anything from smoothies to salads.
---