Basil limeade
(Read article summary)
The peppery and clove flavors of a basil simple syrup mix with fresh lime juice to make a refreshing late-summer drink.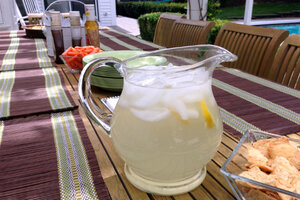 Kitchen Report
We are fortunate to have a rotating fleet of food trucks that roll up to the curb at the far end of the plaza by the water fountain outside the newsroom. Stepping out of the chilly, air conditioned blasts that pour down our backs all day and into the sunshine is a must at lunchtime. People frequently preface their lunch break by saying, "I'm going outside to warm up." Strolling down to the food trucks to stand in line only prolongs the welcome break in the warmth.
This summer, I've been hooked on the Thai basil limeade from the Bon Me food truck.
They have all kinds of delicious house-made drinks, like spicy ginger lemonade, but the basil limeade is my favorite to take the edge off the humidity.
Being curious, I wanted to see if I could recreate it, and decided a simple syrup must be the way to go.
I had received a bag of GMO-free Zulka pure cane sugar to try and this seemed like the perfect opportunity. Zulka retains its natural color, kind of a sandy white. The darker undertones make it sparkle more than an ordinary cup of white sugar, it's quite pretty. The taste is slightly different, too, similar to a subtle maple syrup flavoring. When I tromped around Eladio Pop's cacao farm in the rainforest of Belize, he hacked down some sugar cane for us to suck on and this is what Zulka sugar tastes like.
---