Meatless Monday: Kale lemon pesto with fettuccine
(Read article summary)
Kale, lemon juice and zest, pistachios, garlic, and Parmesan cheese make a quick, no-cook vegetarian pasta sauce – or spread for crostini.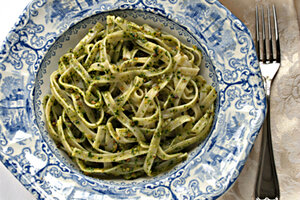 Blue Kitchen
I rarely find myself ahead of the curve on trends, but we cooked with kale when it was just good for you. In fact, it first appeared in a recipe here about five and a half years ago. Kale's coolness factor has soared in the last few years, with it showing up on upscale restaurant menus everywhere. Its mere appearance there bestows instant hipness. In May, kale salads received breathless praise in The New York Times, not in the Dining section, but in Fashion & Style. And Zazzle.com even sells a T-shirt proclaiming "Kale is the new black."
Of course, part of fashion is being attuned to the season. So here's a fall twist on summery pesto. Usually made with basil, this no-cook sauce is a staple of Italian dinners. It can be tossed with pasta for a meal (our favorite use) or slathered on crostini for an appetizer. Here, kale sheds its winter greens identity and shows basil a thing or two.
One thing that makes pesto a favorite on pasta is that the only thing you cook is the pasta. The pesto itself comes together on your cutting board and in your food processor. And as you toss the room temperature pesto with the cooked pasta, it cools the dish slightly, making it seem less heavy. Also, the pasta's heat amplifies the pesto's already potent fragrance, welcoming everyone to the table.
A word on that fragrance. Much of it comes from garlic, as does the taste. Use a light hand. A single large clove is all you need – the garlic is raw here and retains all of its bite. Many recipes call for two or three cloves, and one I saw even advocates five or six. I can just picture that postprandial stroll, birds dropping from the sky, entire gardens wilting. Stick with one clove.
To give pesto a kale makeover, I added lemon juice and zest to provide some brightness. Pistachio nuts deliver more personality than the traditional pine nuts, I think, and are lighter tasting here than the equally traditional walnuts. Surprisingly, kale's trademark slightly bitter flavor disappears in this treatment, leaving only a fresh, leafy greenness.
Kale Lemon Pesto with Fettuccine
Serves 3 as a meal, 4 to 6 as a side
This recipe comes together quickly. If you're reasonably proficient in the kitchen, you can make the pesto in the time it takes to heat water for the pasta and cook it.
---