Roasted apple layer cake
(Read article summary)
This cake is moist and packed with plenty of apples and fall flavors. Topped with a cream cheese frosting, it's sure to be the hit of any autumn gathering.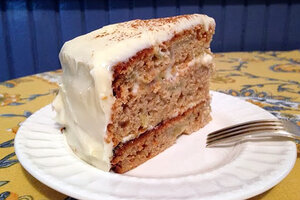 Eat. Run. Read.
Usually during the fall months, I focus on pumpkin, but this year I'm focusing on another fall fruit – I'm on the autumn apple train, and nothing can get me off of it.
Friends, in the fall fruit department, New England is the apple of my eye! Apples here are so fresh and sweet and crunchy and crisp and delicious: sliced to scoop my breakfast yogurt, easily tossed in my backpack for a snack, roasted and savory in my dinner salad, and of course baked into dessert.
My most recent culinary confection may not be quite as American as apple pie, but roasting the apples for this cake ensures that they're soft and sweet and apple pie-ish in the layers. And it's covered in cream cheese frosting. Trust me: Everything good in this world involves cream cheese frosting.
I left class on Wednesday, my coursework in apple-pie order, looking forward to finishing an assignment and beginning to bake my first layer cake in a loooong while! (According to Eat. Run. Read., which never lies, my last legit layer cake was this Black Forest Cake from last February!) Anywho, Roommate Rachel and I had invited friends over for a mid-week dinner party, and though she and I may be apples and oranges appearance-wise, we are the same in the food and hosting department: We want to cook delicious things and invite others to enjoy. So we commandeered the kitchen and cooked up a storm – pizza, roasted butternut squash salad, and this cake, of course!
---