Anise-seed bread
(Read article summary)
This traditional Guyanese bread is hearty, the kind of bread you pull apart with your hands and pair with a big pot of spicy soup or a soulful stew.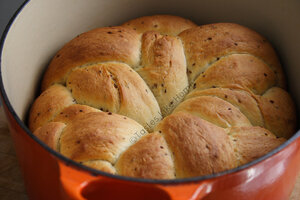 Tastes Like Home
I generally make two versions of Anise-seed bread. One that requires double proofing and that can be baked in a regular loaf pan or a sheet pan. With the double-proof bread, I also brush the bread when it is just finished baking with a homemade orange syrup and dust it with castor sugar. It is the kind of bread that you can eat just as-is.
This second version of the bread I am featuring is more of the hearty kind. It requires almost no proofing and can be ready in under 90 minutes. For this bread, you will need a 5- or 6-quart oven proof bowl or dish with a cover or a cast iron pot with a lid will do. If you don't have either, you can still make the bread. Use a deep dish and use foil to cover it.
At Christmas, Guyanese make a dish called Pepperpot and to accompany it, homemade bread is a must. You want the bread to be hearty, solid and something that you can pull apart, tear at. No dainty slicing here. While a regular white bread works very well, having Pepperpot with anise-seed bread to soak up that dark, velvety, liquid black gold is a something to be thankful for. The combination of spice flavorings from the Pepperpot marry well with the anise-seed.
If you're Guyanese, I know that you still have Pepperpot leftover from Christmas or New Year's, so have at it and make some anise-seed bread.
Anise-seed bread
3-1/2 cups all-purpose flour, plus extra for work surface
---