Broccoli and sweet potato rice bowl
(Read article summary)
Warm and filling, this savory and sweet dish has added flavor with a miso-sesame dressing.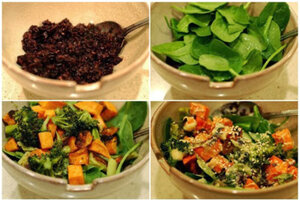 The Garden of Eating
The inspiration for this dish came from my coworker, Anne, who e-mailed me the link to Smitten Kitchen's recipe as part of an ongoing group conversation about good ways to use miso paste. Deb at Smitten Kitchen adapted Gwyneth Paltrow's recipe on Goop and I am adapting it still further to reincorporate the idea of serving it over greens and rice using my new favorite rice, Lundberg Farm's Black Japonica.
With a couple bunches of lovely organic broccoli, baby spinach, a mellow white miso, fresh ginger, garlic, and a few other things to round out the dressing all this recipe requires is a bit of chopping. The yams went into the oven first since they needed more roasting time. When it was time to flip them, the broccoli florets followed.
Meanwhile, the rice was cooking. Everything was done at the same time and then it was time to build the bowls. First rice, then some spinach – the heat of the rice and of the roasted vegetables combine to wilt it a little which is nice. Then the miso dressing – no skimping! – and a topping of toasted sesame seeds to add a little, nutty, fragrant crunch.
Miso Broccoli Sweet Potato Rice Bowl adapted from Goop and Smitten Kitchen
Serves 4

For the bowl:
1 cup dried rice or another cooking grain of your choice
2 sweet organic potatoes
1 large bunch of organic broccoli
1 to 2 tablespoons olive oil
Sea salt and freshly ground black pepper
2-3 cups organic baby spinach or other greens
2 teaspoons sesame seeds (either white or black or both!)

For the dressing:
1 tablespoon minced fresh ginger
1 small garlic clove, minced
---