Two versatile water gardens
(Read article summary)
Water gardens can be versatile and easy-care. A contemporary water oasis and a series of babbling streams show off water's many garden uses.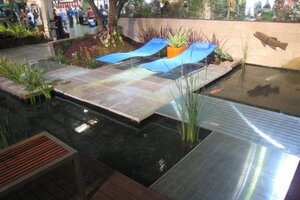 Courtesy of Mary-Kate Mackey
Here are two inspiring water gardens I saw at the San Francisco Flower and Garden Show. They couldn't have been more different. The first was smoothly modern, taking its cue from architectural hardscapes. The second hearkened back to natural forms.
Calm smooths the edges
In contemporary designs like this first one (in Photos No. 1 and 3 above), the water element becomes architectural, its very flatness replicating the surfaces of the surrounding concrete, wood and metal.
I was totally attracted to this calm clean space. The steel walkways invited me to cross over the water with all the allure that bridges possess. The destinations included handsome wooden benches on one island, and very luxy seating on the other.
I could imagine this installation occupying an entire small backyard, especially in an urban setting. Or it could be a pocket garden, tucked next to a house, for the added pleasure of water views from indoors.
It was a retreat where grown-ups retire at the end of hectic day, or friends gather — I didn't see this area as appropriate for small children; it would need some kind of discreet fencing.
The space was high on attractiveness and low on maintenance. Designed by Huettl Landscape Architecture, the water garden employed the latest in biological filtration technology, installed by Concord Feed. The water is kept clean and sparkling and chemical free, always a bonus in any gardening situation.
---