How to grow herbs indoors during winter
(Read article summary)
Want a fresh supply of herbs all winter long? It's simple to grow them indoors.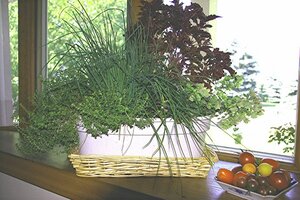 Courtesy of Doreen G. Howard
I'm potting up herbs this week to bring indoors so I'll have a fresh and steady supply throughout my long winter. Pots of chives, thyme, and tarragon turn meals into gourmet fare and my kitchen window into a green view. They save money, too.
All you need are containers, the right potting mix, good light, and herbs that require similar growing conditions.
A word of caution about selecting them; not all herbs grow well indoors. Cilantro and dill, for example, decline rapidly, even in a sun-drenched window. Both need to be started from seed every few weeks, because they don't regenerate new growth after being cut.
Best herbs for indoors
The hardiest herbs indoors coincidentally provide the widest array of flavors for cooking. Five herbs that thrive in a sunny window -- oregano, chives, mint, rosemary, and thyme -- will flavor everything from soups, salads, meat, fish, and poultry to teas and Italian foods.
I like to group all of them, except mint, together in planters for windowsill display and ease of care.
Mint does best in its own pot, because it needs extra nitrogen to build aroma and flavor in the leaves.
Basil does well for me, too, in intense light; I grow it under plant lights with my orchid collection.
Give all herbs as much light as possible. A south-facing window provides enough for most. Many east- or west-facing ones do, too.
Add a grow light or fluorescent fixture hung above plants to supplement light in dimmer windows. Leave lights on 14 to 16 hours daily in winter months to compensate for the weaker sun of the season. Use an inexpensive timer to turn them on and off.
---