Subway spaghetti video sparks transportation etiquette debate
Subway spaghetti video: A video taken of a fight in a New York City subway car started with a woman eating spaghetti, but led to a wider discussion about what is fair to put other riders of public transportation through during busy city commutes, and where to draw the line.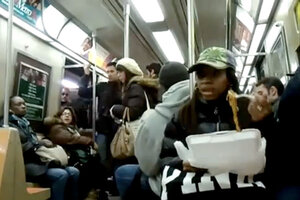 Screen capture/Youtube
The city's subway riders can handle panhandlers, rats and tuneless street musicians. But eating spaghetti in a crowded subway car? Well, that's just going too far.
An Internet video that shows New Yorkers brawling over a passenger's right to nosh noodles on the subway has ignited a debate about what people should and shouldn't do in the nation's largest mass transit system.
The video, posted online anonymously, picks up mid-argument, as a woman twirls onto her fork spaghettifrom a takeout container and a passenger across the aisle chides her.
"What kind of animals eat on the train like that?" says the woman across the aisle.
The diner snaps back with an epithet, and the exchange quickly degenerates into a fistfight.
"Chill out!" shouts a man as he tries to pull apart the two combatants.
The video has touched a nerve in a stressed-out city where the commutes are difficult and no perceived slight goes undocumented, thanks to cellphone video cameras.
On Internet sites, hundreds of viewers of the spaghetti skirmish debated the smell and the spilling of subterranean snackers. One YouTube contributor mixed video of the fight with scenes from the violent 1983 Al Pacino crime drama "Scarface."
Some New York commuters called for a subway system ban on food, like the ones enforced in Washington, San Francisco and other cities. The Port Authority Trans-Hudson trains, which run between New York and New Jersey, already prohibit eating.
"I think it's nasty when people eat," said Sam Ramos, as he rode a 5 train to the Bronx. "They should go somewhere else."
---