Zooey Deschanel tapped to sing 'Pooh' movie song
Zooey Deschanel has shown her versatility through her work in film and as a musician in the band She & Him. Now Deschanel is being tapped to sing children's movie themes.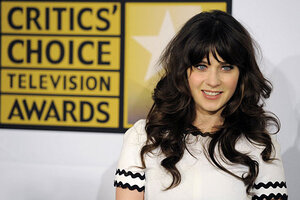 Chris Pizzello/AP/File
When Zooey Deschanel was a little girl, she listened to children's music by Harry Nilsson, Carole King and others — and those songs remain on her playlist today.
So when the actress and She & Him singer was tapped to write the closing song for the new "Winnie the Pooh" movie, she sought to set that same kind of standard for her tune.
"I wanted something that a kid could see now, and then hear in like 15, 20 years and still like the song, and something that their parents would like when they see the movie," Deschanel said in a recent phone interview.
The result, "So Long," is a whimsical ditty, one of three songs that Deschanel croons for the animated film, in theaters Friday. (She also sings the classic theme song, "Winnie the Pooh.") She describes the song as "not too modern but not too old-fashioned," which could also apply to Deschanel.
The 31-year-old is known for her quirky performances in films including "(500) Days of Summer" and "Elf," as well as her musical career with M. Ward as part of the retro, folky-pop duo of She & Him. Though considered left of the mainstream, she has a chance to connect with the masses this fall on "The New Girl," a Fox TV comedy.
Deschanel talked with The Associated Press about all things "Pooh," her new series and her next role — as an aunt.
AP: Were you a big Winnie the Pooh fan?
Deschanel: I was. I feel like if you asked me when I first heard of Winnie the Pooh, I don't remember, because it's so much a part of my childhood. ... I feel like it would be weird if I didn't love Winnie the Pooh.
---