Ja Rule sent to prison for two years
Ja Rule has been sentenced to two years in federal prison for evading taxes.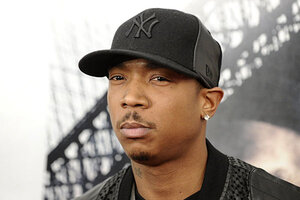 Peter Kramer/AP/File
Rapper and actor Ja Rule was sentenced Monday to more than two years in federal prison for failing to file income tax returns, and said a combination of youthful inexperience, bad advice and an inability to manage fame and fortune lead to his financial troubles.
"I in no way attempted to deceive the government or do anything illegal," he said, minutes before being sentenced in a New Jersey federal court. "I was a young man who made a lot of money — I'm getting a little choked up — I didn't know how to deal with these finances, and I didn't have people to guide me, so I made mistakes."
The multiplatinum-selling artist, whose real name is Jeffrey Atkins, admitted in March that he failed to pay taxes on more than $3 million that he earned between 2004 and 2006 while living in Saddle River. Although he pleaded guilty to three counts of unfiled taxes, he admitted he hadn't filed for five years, according to U.S. Attorney Paul Fishman.
Ja Rule was sentenced in New York City last month to up to two years in prison after he pleaded guilty to attempted criminal weapon possession. The case stemmed from a gun found in his car in 2007. Police said they stopped Ja Rule's $250,000-plus Maybach sports car for speeding and found a loaded .40-caliber semiautomatic gun in a rear door. The gun wasn't registered. He was charged under a New York law that generally bars people from having firearms outside their homes or workplaces.
---