Darlene Love and other traditions return to 'Letterman' (VIDEO)
Darlene Love, the Lone Ranger, and meatball target practice have all become holiday traditions on David Letterman's 'Late Show.'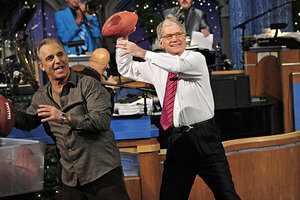 John Paul Filo/CBS/AP
Think holiday traditions and mistletoe, eggnog and caroling come to mind. David Letterman's Christmas includes target practice at a giant meatball, the Lone Ranger and singer Darlene Love.
Each has become part of CBS "Late Show" lore through the years, their appearances anticipated by fans like wrapped presents under a tree. The traditions return Friday.
Comic Jay Thomas will be back to try to knock a meatball off the top of a Christmas tree with a football and recount his Lone Ranger anecdote again. Love will sing "Christmas (Baby Please Come Home)" as fake snow flutters to the stage.
"The best traditions are the ones you can't plan," said Rob Burnett, executive producer of "Late Show."
"These happened very organically on our show and it is very silly and very goofy. It makes sense with the sensibility of the 'Late Show' to be part of our tradition."
Letterman's on-set Christmas tree is frequently decorated with oddities, such as the meatball on top instead of a star, angel or bow.
It all started one night back in 1998 when New York Jets quarterback Vinny Testaverde was a guest. He and Letterman picked up footballs and began tossing them at the tree, aiming for the meatball. Watching their failures impatiently from the wings was Thomas, former quarterback at tiny Central Piedmont Community College in Charlotte, N.C.
---