Lady Antebellum to play at prom in Henryville, Indiana
Lady Antebellum will play at a high-school 'mini prom' for the tornado-battered town of Henryville, Ind. Lady Antebellum will also hold a benefit and online fund drive.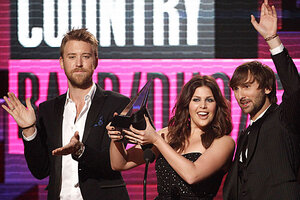 AP Photo/Matt Sayles, File
Tornadoes battered their school and their homes. Their spring break was filled with cleanup and recovery work that has only just begun. But for one night, students at a southern Indiana high school hope to put all that aside to enjoy an evening that one of country music's biggest acts planned just for them.
Henryville, Ind., will share the spotlight with Grammy-winning Lady Antebellum on Wednesday night at the KFC Yum Center in nearby Louisville, Ky., where the trio will stage a "mini-prom" bash for students at Henryville Junior-Senior High School, followed by a benefit for the devastated community.
"With everything's that's happened — the tornado and the destruction — now we'll have something else to remember for the rest of our lives," said Henryville junior class vice president Kaitlyn Maloney, 17, who rode out the March 2 storm with her parents in the basement of their Henryville home. "This will give us something to remember that's happy."
IN PICTURES: Extreme Weather 2012
The battered high school landed both events in late March by winning Lady Antebellum's online "Own the Night" contest offering one school a concert at its prom. Schools as far away as northern Wisconsin submitted YouTube videos on behalf of Henryville, an unincorporated town hit by two tornadoes — one packing 175 mph winds — on a day when storms killed 13 people in Indiana and 24 in Kentucky.
Singer Hillary Scott said the band was moved by what she called the "selfless" entries from other schools, including rival Silver Creek High School in nearby Sellersburg, Ind.
---