Somber searches resume as tornado outbreak leaves heartland reeling
An 'enormous outbreak' of at least 91 tornadoes tore into the Ohio and Tennessee Valleys Friday, the second major tornado system to rake across the heartland in the span of three days.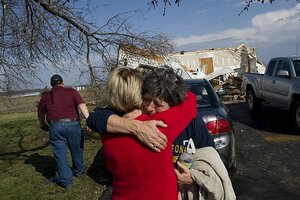 Denny Simmons/Evansville Courier & Press/AP
Waves of tornado-bearing storms tore into America's heartland this week, laying waste to towns, prisons, churches, and trailer parks, and leaving authorities scrambling Saturday to reach hard-hit areas cut off by debris and downed trees.
On Friday, what the National Weather Service called an "enormous outbreak" of up to 91 deadly twisters killed at least 31 people and put millions at risk as it rolled through the Ohio and Tennessee Valleys, destroying nearly the entire towns of Marysville, Ind. and Henryville, Ind., which both have a population of about 2,000, as the system spanned an area from the Gulf to the Great Lakes.
The weather service had issued 269 tornado warnings across the region by 10 p.m. Friday, compared to 189 warnings that were issued in the entire month of February.
"We are no match for Mother Nature at her worst," Indiana Governor Mitch Daniels said in a statement.
RECOMMENDED: Can you outsmart a tornado? Take our quiz
As dawn broke on Saturday, rescue crews continued to search wide swaths of debris in several states, using rescue dogs and heat-detectors to look for survivors trapped in debris.
Many Kentucky towns remained cut off and searchers in Indiana spanned out across wide rural areas to assess damage and find possible survivors. Of the 31 victims, 15 were in Indiana, 12 in Kentucky, three in Ohio and one in Alabama, but officials said the toll could be worse.
---