Comic-Con 2013: And the geeks shall inherit the Earth?
Comic-Con 2013: It's not just for nerds anymore. Comic book films have become summer blockbuster staples, and even stars like Samuel L. Jackson, Sandra Bullock, and Tom Cruise are showing up at Comic-Con.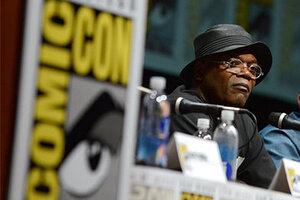 Jordan Strauss/Invision/AP
Samuel L. Jackson visits Golden Apple Comics in Los Angeles twice a month. Employees there keep a box stuffed with the latest comic books and graphic novels for him.
Does that make him a nerd? Go ahead and call him that. We dare you.
"I don't know who actually defined it as such," Jackson said during an interview Saturday at Comic-Con where he was promoting his fantasy-driven film, "Captain America: The Winter Solider." ''I've always read comic books. I've always spent time in comic book stores. I still do. I don't particularly consider myself a nerd. It's just that part of pop culture that I'm also a part of."
If Jackson, arguably the baddest you know what in the history of cinema, is comfortable with the world of super heroes, sci-fi and fantasy, it's probably time to stop throwing around that word nerd. Those who would turn their nose up at a sweaty guy dressed like Wolverine are increasingly in the minority. Geeks may still get stuffed in lockers and given the occasional swirly, but they rule the American entertainment world — and thus global popular culture in the 21st century.
The biggest rock stars at Comic-Con this year weren't the guys in Metallica and Weezer, but the fellows named Joss Whedon, Robert Kirkman and Neil Gaiman.
---