Waiting for 'Superman': movie review
Documentary 'Waiting for "Superman" ' takes a swipe at unions as the cause of America's failing high schools.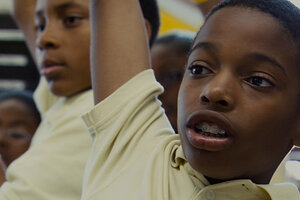 Paramount Pictures
The crisis in America's public-school system, which among developed countries ranks 21st in science and 25th in math, is methodically laid out in Davis Guggenheim's "Waiting for 'Superman.'"
The title comes from a recollection from one of the documentary's centerpiece talking heads, the educational reformer Geoffrey Canada, who grew up in the South Bronx and who says, "One of the saddest days of my life was when my mother told me Superman did not exist. She thought I was crying because it's like Santa Claus is not real. I was crying because no one was coming with enough power to save us." Canada founded and runs the successful Harlem Children's Zone, which is primarily dependent on private donations.
According to Guggenheim, who clearly intends this film to do for education reform what his "An Inconvenient Truth" attempted to do for climate change reform, the big problem is teachers unions, which make it almost impossible to fire a tenured teacher. The savior is the charter school system.
---