Life in a Day: movie review
'Life in a Day' stitches together footage from Youtubers and camera people in 192 countries for a cross-section of people's lives on one single day.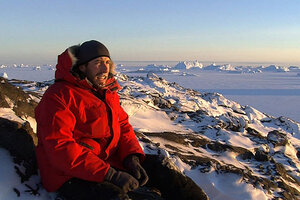 Nat Geo/AP
It probably sounded like a great idea. YouTube, in collaboration with Ridley and Tony Scott's Scott Free Productions, invited its worldwide contributors to submit personal diary footage covering a single Saturday – July 24, 2010. The resulting documentary, "Life in a Day," is stitched together from submissions from people in 192 countries. Director Kevin Macdonald ("The Last King of Scotland") and his editor, Joe Walker, looked at 4,500 hours of video to produce a 95-minute film in which 21 languages are heard on screen.
As high concepts go, this one takes the cake, although the cake is not quite as filling as one might imagine. If Macdonald and Walker actually looked at all that footage, which comes out to 187-1/2 days of nonstop viewing, I suspect the fast-forward and delete buttons got a big workout during the assembling of this film. While watching it, I sometimes wished I had access to those buttons, too. The footage that we see is, as one might expect, a mishmash of the highly personal, the inane, the fascinating, the deeply boring. The filmmakers chart their Saturday, from midnight to midnight, as we watch people rising from bed, brushing their teeth, idling, getting on with their day. YouTube asked its volunteers to answer such questions as "What's in your pocket?" (my favorite: keys to a Lamborghini) and "What do you love?" (cats, food, refrigerators).
---