Crazy Horse: movie review
Frederick Wiseman's latest documentary takes a peek through the doors of the world's most famous exotic dance club.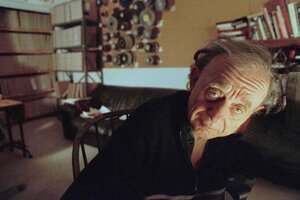 Jared Leeds/AP
In "Crazy Horse," Frederick Wiseman, our greatest documentarian, turns his sights on the world's most famous exotic dance club. Located in Paris beneath Avenue George V and billed as "the best chic nude show in the world," Crazy Horse, or "Le Crazy" as it is sometimes known, has been packing them in since its founding in 1951.
Although Wiseman has made stunning documentaries with titles like "Hospital," "Welfare," Juvenile Court," "High School," "Basic Training," and "Law and Order," he has also ranged far beyond the gravitas of these subjects with such performance-oriented films as "Ballet" and "La Danse – Le ballet de l'Opéra de Paris."
Wiseman's movies are often discussed in terms of how they comprehend institutional environments. What his films are really about are the ways in which those institutions distend the bodies and souls of those who reside within them. In the case of "Crazy Horse," all that distending is, at the least, highly photogenic. This film is minor Wiseman, but, on a technical level, it's as snazzy as anything he's ever done and lots of fun. It puts you not only backstage at the club but also in the front row. Watching the film, you half expect a waiter to set up a table before you and lay out the champagne.
---