Boy: movie review
The New Zealand movie 'Boy' turns on an errant father who is idolized by his two young sons when he returns, despite his goofy irresponsibility.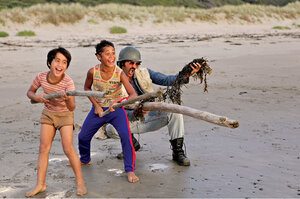 Paladin Films and Unison Films
"Boy" is set in New Zealand in a Maori village in 1984 near the Bay of Plenty. The writer-director Taika Waititi, who also costars, doesn't make a big scenic deal about this bedraggled, picturesque location. It's simply the place where his story plays out. Like everything else about "Boy," this approach has a refreshing nonchalance.
The title character, whom everyone calls Boy (James Rolleston), is an 11-year-old who, with his grandmother, helps look after his two younger siblings. Boy's errant father (Waititi) has recently returned to the fold while the grandmother is away, and although his children idolize him, we can see through his posturings right away. A would-be gang leader, he's not much more mature than Boy, and his attempts to be fatherly are mostly pathetic.
And yet, in some way, he cares about being a good father even though he doesn't have the remotest idea how to make that happen. Boy, in turn, sees his father both for what he is and for what Boy would like him to be. In a series of brief fantasy interludes he imagines him as a samurai, a warrior, and, most impressively, as Boy's hero, Michael Jackson.
---