The Deep Blue Sea: movie review
A director's touch and precision acting give life to 'The Deep Blue Sea.'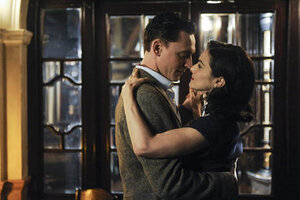 Courtesy of Music Box Films
"The Deep Blue Sea" opens with Sam­uel Barber's beautiful Vio­lin Concerto, the sound of a ticking clock, and the on-screen legend "London, Around 1950." It's night, and the camera tracks very slowly along a shabby street before tilting up to a third-floor window where we see Hester Collyer (Rachel Weisz). We enter the apartment and watch her calmly prepare to kill herself, by both taking pills and turning on the gas. It's the suicide equivalent of wearing a belt and suspenders.
Once we get to know her better and learn the circumstances leading to her current actions, this apparent surfeit of caution seems out of character: In matters of love, romance, and sex, she has thrown caution to the wind. As the camera smoothly follows her around the room and her mind wanders to some brief flashbacks, the film is more concerned with setting a tragic/romantic mood than giving us a lot of detail. The 10-minute opening sequence is shot almost like a silent movie, with no more than a line or two spoken.
This might seem odd, since "The Deep Blue Sea" is adapted from a 1952 stage drama by Terence Rattigan, and stage dramas tend to lean heavily on dialogue. Rattigan was one of the leading British playwrights of the 1940s and '50s, until the London stage was rattled, first by John Osborne and the so-called Angry Young Men, then by Harold Pinter. Suddenly Rattigan's work – "The Browning Version," "Separate Tables," and "The Winslow Boy" are the best known on the American side of the pond – looked hopelessly bourgeois in comparison.
One good Terence deserves another, and, in this case, that would be director Terence Davies, one of the great stylists in contemporary British cinema. Davies made his reputation with a series of autobiographical films – the two distributed in the States were "Distant Voices, Still Lives" and "The Long Day Closes" – that were as brutally depressing as they were aesthetically striking. Davies's storytelling techniques in these films may have been slow as molasses, but were so fresh and different as to make the ordeal of reliving his life somewhere in the vicinity of "worthwhile."
---