Under African Skies: movie review
When Paul Simon played, apartheid as his backdrop.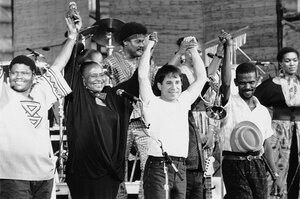 Radical Media
For the many millions of us who love Paul Simon's 26-year-old album "Graceland," a cloud has long hung over that enterprise. Did Simon, who traveled to South Africa in 1985 for many of the recording sessions in violation of a United Nations cultural boycott, set back the cause of anti-apartheid activism?
The new Joe Berlinger documentary "Under African Skies" examines these questions without much undue favoritism. (It plays for one week in Los Angeles and New York before being televised on A&E starting May 25.) The result is doubly satisfying: We get not only a trenchant political drama but a bang-up concert film as well.
Although African music from the beginning was the touchstone of much American rock and pop, Simon's fusion of American and South African rhythms was something new on the musical landscape. His "Graceland" album, which contained no overt political messages, was nevertheless seen as a political act. As he explains in the film, Simon saw himself as an artist who transcended political restraining orders.
His anti-apartheid opponents, especially the African National Congress and the Artists Against Apartheid, castigated Simon for what at best they termed his naiveté. Although Simon gave credit and compensation to the South African artists, and made overnight stars of groups like Ladysmith Black Mambazo, he was still perceived as a white man freeloading South Africa's musical heritage for personal gain.
---