Toronto International Film Festival: Fewer political movies, more literary adaptations
A new version of a Henry James novel and a Shakespeare adaptation by Joss Whedon were standouts.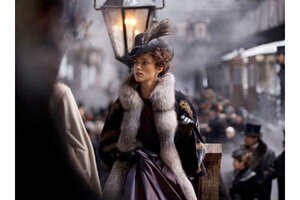 Focus Features/Toronto Film Festival
The Toronto International Film Festival, in its 37th year, is the largest public film festival in the world. And what a public it is. Audiences here, often massed in waiting lines snaking around the block, are movie infatuated. At the recently concluded Venice Film Festival, Terrence Malick's wayward new film "To the Wonder" was loudly booed, but here no such cacophony can be heard. Moviegoing is a holy ritual (except for all that texting).
Besides, if you don't like one movie there's always another. About 300, actually, from more than 60 countries. I saw 20 in six days, not to mention attending receptions, interviews, and press conferences. Toronto provides a big picture window into the big fall Hollywood season as well as worthies from around the world that are still hunting for distribution (and, alas, may never find it).
There is also, of course, the usual circuslike atmosphere that pervades the festival during its first long weekend, when the major Hollywood players roll into town with their wares and convert streets into limo lanes and fancy hotel entrances into autograph outposts. Fans have been complaining that the barricades separating them from the stars – Johnny Depp, Bradley Cooper, Jennifer Lawrence, Dustin Hoffman, Marion Cotillard, ad infinitum – have been set farther back this year. Bribes of up to $1,000 to skip the line have reportedly been offered to burly security guards.
---