A middle school turns out chess champions in 'Brooklyn Castle'
'Brooklyn Castle' has the right moves.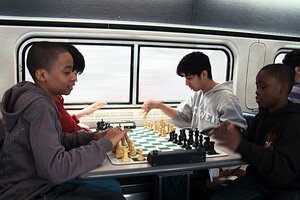 Courtesy of Producers Distribution Agency
Is chess cool? In my day, being in the school chess club was about as hip as being on the audiovisual squad and a full step lower than being in the marching band.
Times have changed, though. At least they have at Intermediate School 318, an inner-city school in Brooklyn, New York. Despite the fact that more than 65 percent of its students are from homes with incomes below the federal poverty level, this middle school has consistently trained the most-winning junior-high chess teams in the nation.
As inspirational academic stories go, it doesn't get much better than this, which is no doubt what attracted first-time feature filmmaker (and Brooklyn native) Katie Dellamaggiore to make a film about I.S. 318. As a piece of filmmaking, "Brooklyn Castle" is not going to set the world on fire. Often scattershot, it frequently stops short of delving into the lives of the young chess mavens just when things are getting interesting. But the kids and their faculty coaches and sponsors are so spirited that this raggedness almost doesn't matter.
Although the chess team has about 85 members, Dellamaggiore focuses on the five at the top, each highly individual. Rochelle, age 13, in eighth grade, is soft-spoken but determined to be the first African-American female to be ranked a master. She is shy about talking chess because she thinks it makes her sound "like a nerd," especially in such a male-dominated world.
---