'Les Misérables' features great acting as well as singing
'Les Misérables' stars Hugh Jackman in a piece of ideal casting.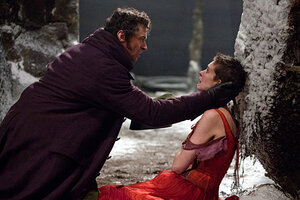 Universal Pictures/AP
"Les Misérables" is a great big behemoth of a musical, but I rarely felt weighted down by it. It's based on the Cameron Mackintosh production of Alain Boublil and Claude-Michel Schönberg's French stage musical – one of those shows, like "Cats" and "The Phantom of the Opera," that always seems to running somewhere in the world. It passed me by, though. I come to the movie fresh.
Or at least partially so. The great big behemoth of a source novel by Victor Hugo has been filmed numerous times; its narrative has been recycled endlessly (most memorably in "The Fugitive" TV series and, less memorably, the movie).
---